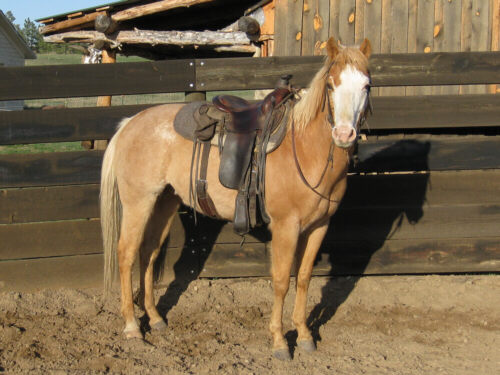 Everybody loves "Hollywood". He is like a big puppy dog that became a horse. I get frowns whenever somebody at the ranch hears that I am willing to sell him - how dare I to part from such a cute horse! I am wondering myself ...

Hollywood is an 11 year old Halter bred Paint gelding, registered with APHA. He was a stud prospect but didn't fill out as much as a Halter breeder likes to see, thus was never used for breeding but gelded and used off and on under saddle.
His former owner had him for 9 years before he came to me in Winter 2009/10.

He loves people and can stand forever to be brushed. He handles great, loads, trailers, ties, stands to get his feet done, no vices. He is very smooth gated and moves out nicely.

Last summer he was ridden on a ranch with various, rough country (fallen trees, creeks, rocks, steep canyon walls) to learn the basics to become a great partner on the trail.
He is very fine and loves to move. He has a very easy and responsive handling and carries his head nice, at this point a rider with soft hands would be best with him even though he is safe and sane enough for anybody to ride. No buck or any other undesirable behavior. I do not consider him a finished trail horse but he has enough experience for most anybody who can ride.