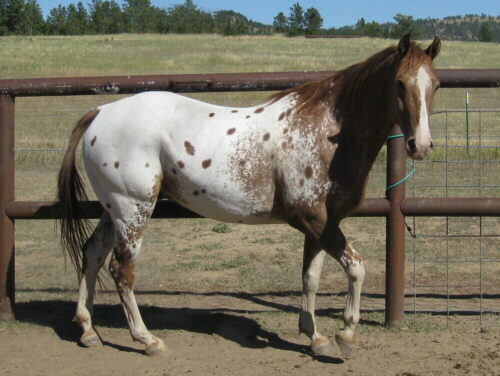 Payday came to us as a trade-in. He has been used on the trails and worked on a cattle ranch. He doesn't have any bad habits, no buck or rear or anything like this. He rides out easily and crosses creeks and such without problems. He has a very friendly personality, walks up to me in the corral and is easy to catch even on pasture. He is not spooky or flighty, I've ridden him alone in very rough country with a lot of wild life, he didn't shy once.
He is an easy horse to ride in general, but he is fine on cues thus probably not a kids horse nor would I recommend him for total beginners. Novice riders will get along with him. I broke my collar bone and he is the horse I am riding as I can control him with one hand and he stands still when mounting/unmounting no matter if alone or in a group with other riders. He neck reins very well and is not used to draw reining (thus not the best choice for kids or beginners).
At this time he is my go-to horse for tough work, I sorted yearlings with him, moved horses, and doctored steers - all which he did great, however, he is neither a roping nor a cutting horse. He can build up a lot of speed but walk on a long rein after a fast run, he doesn't get hot. He is really fun to ride and his gaits are very comfortable.

Payday has impeccable ground manners, stands app 15 hands tall and is stout and correct build.