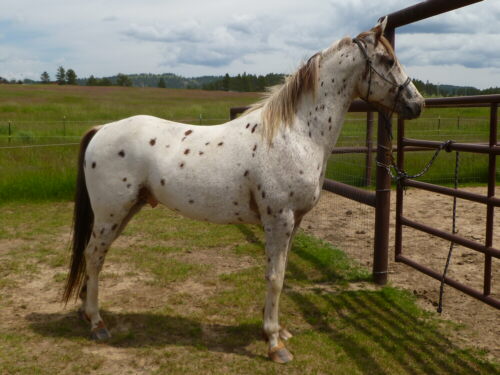 Rusty is a 5yr old Appaloosa gelding, stands 14.1 to 14.2 hands and is very correct put together.

He is green broke, which means that he knows all the basics, but still needs reinforcement to do the right things. He has been started riding outside and already crosses water, fallen timber, goes up and down steep, rocky canyon walls and can lead or follow a group of riders. He shows a lot of interest in working cattle and is all around a very fast and smart learner. He doesn't offer to buck and will make a nice trail horse once he has some more saddle time on him, at this time he needs an experienced rider to take him along.

He has a friendly, curious personality, though is wary of his surroundings. There is not a mean bone in him, he is always willing and eager to please. He walks over tarps and can be petted with plastic bags, he will not jerk away but be alert when somebody moves quick around him. Very good ground manners.