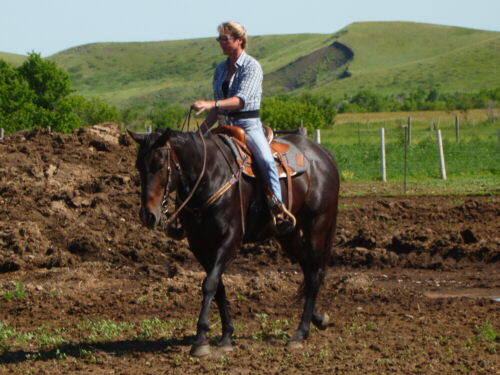 Velvet stands 16 hands, well broke with very nice gaits. She has been used as a ranch and trail horse, however, I would not recommend her for cattle work as she is more on the laid back side and prefers trail rides much over chasing cows around. I purchased her as a mount for my nephew, a beginner rider, who loved her gentleness and easy going nature.

Her size doesn't make her a perfect kids horse, but if you are looking for a pretty family horse that will keep up on trails and not get antsy you may want to meet her. She is used to rough country, going up and down steep hills, through water and creeks and over fallen timber.

We used her at the ranch for guests and she is doing very well, following around, but also not getting antsy when staying behind while her rider is unmounting. She is a great follower but not a leader type, I would see her in a trail or outfitter string rather than a horse that goes out alone even though I've done it with her.
We were told that Velvet is registered with AQHA and had at least two foals, but the papers got lost in a house fire and were not recovered before the owner passed away a few years later.
We think she was registered as Wittes Midnight Wing but can't be sure without a DNA, however, we are pretty sure that Gordo Wings is her sire.

sire
Go Gordo Go
(Go Man Go)
Gordo Wings
Whipering Wings
(The Peoples Choice)
Wittes Midnight Wing
AQHA #4378182
May 31, 2003
dam
Blackjacks Dude 2660961
Wittes Midnight Star 3296207
Wittes Dreamboat